All our dogs are well taken care of and friendly.
GOLDENDOODLE AND LABRADOODLE PARENTS
We have a goldendoodle named Bunny Annie Laurie and she is the daughter of Liebschen and Jacquies. She is an F1 goldendoodle. She weighs 50 pounds. She has an Excellent score on her OFA certification, and has been cleared for Cardiac OFA certification, and also has her CERF certification.
_____________________________________________________
We also have Bunny's daughter, Wiggle. She is about 25 pounds, looks like a miniature golden retriever and is a golden color. She is so very submissive and obedient as well as loving and affectionate. CERF certification.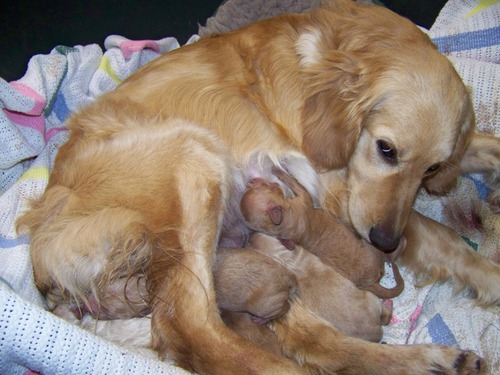 Wiggle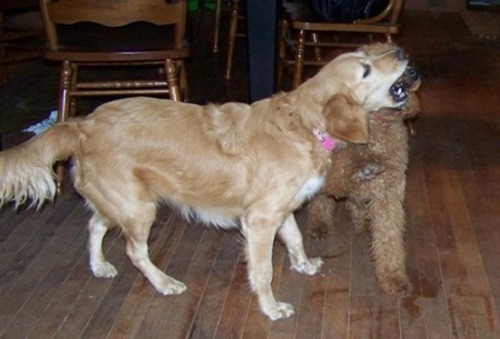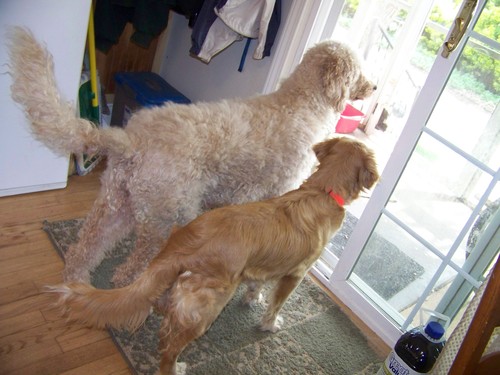 Bunny and her daughter, Wiggle.
.____________________________________________________
_____________________________________________________________________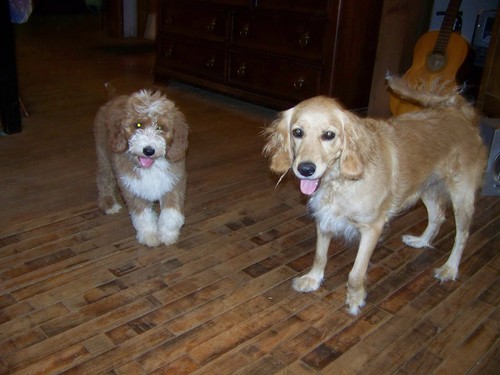 Llittle Pinkie and (Mom) Wiggle.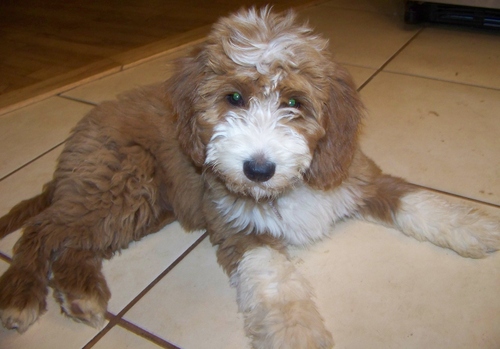 Above is Cimarron Frontier's Pinkie (Pink Cricket). She is our future Doodle Mom. Pinkie is a Double Doodle. Her mother is Wiggle. Her father is Magnum Opus. She is OFA certified for her hips, elbows, and eyes.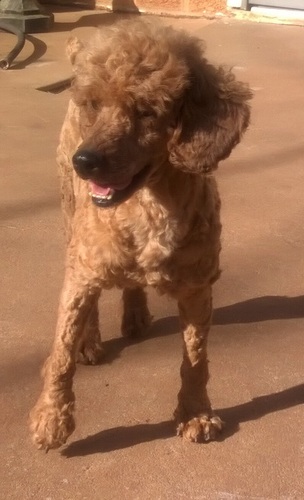 THIS IS GHENGIS. HE IS A MINIATURE POODLE AND SIRE TO SPRING 2015 puppies. Ofa clear.
Diesel
Diesel is a silver and white toy poodle. He has a great gregarious personality. So happy and joyful. He exhibits no human aggression and is always willing to please and be obedient.
OFA Certification - no Patellar Luxation
RETIRED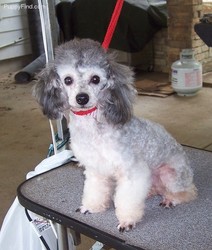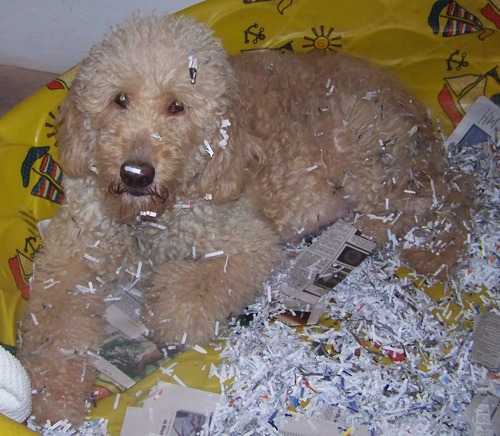 BUNNY ANNIE LAURIE, OUR F1 GOLDENDOODLE.
Bunny has her OFA certification for EXCELLENT hips! She also has OFA cardiac certification and CERF certification. She has been a nursing home visitor and is a very sweet, smart dog, and is so willing to please. She is very obedient and can be trusted to come when called off leash. She is a very friendly dog and is not fearful or aggressive. She has very good house manners and should pass on these qualities to her offspring.
To view her OFA record click here: http://www.offa.org/display.html?appnum=1286448#animal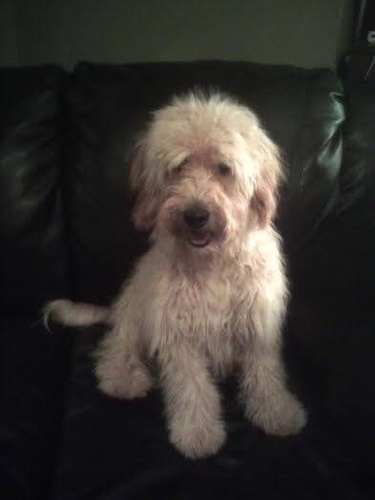 Ambrosias. Miniature goldendoodle.
This is Cimarron Ambrosias. He is our male, apricot f1b miniature Goldendoodle. "Bro" is the current sire of our puppies. He is a mild mannered guy and very gentle. He weighs about 30 pounds. Pre certified OFA elbows. OFA certified cleared/normal eyes.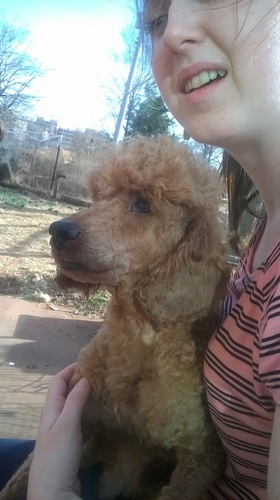 THIS IS GHENGIS MINIATURE POODLE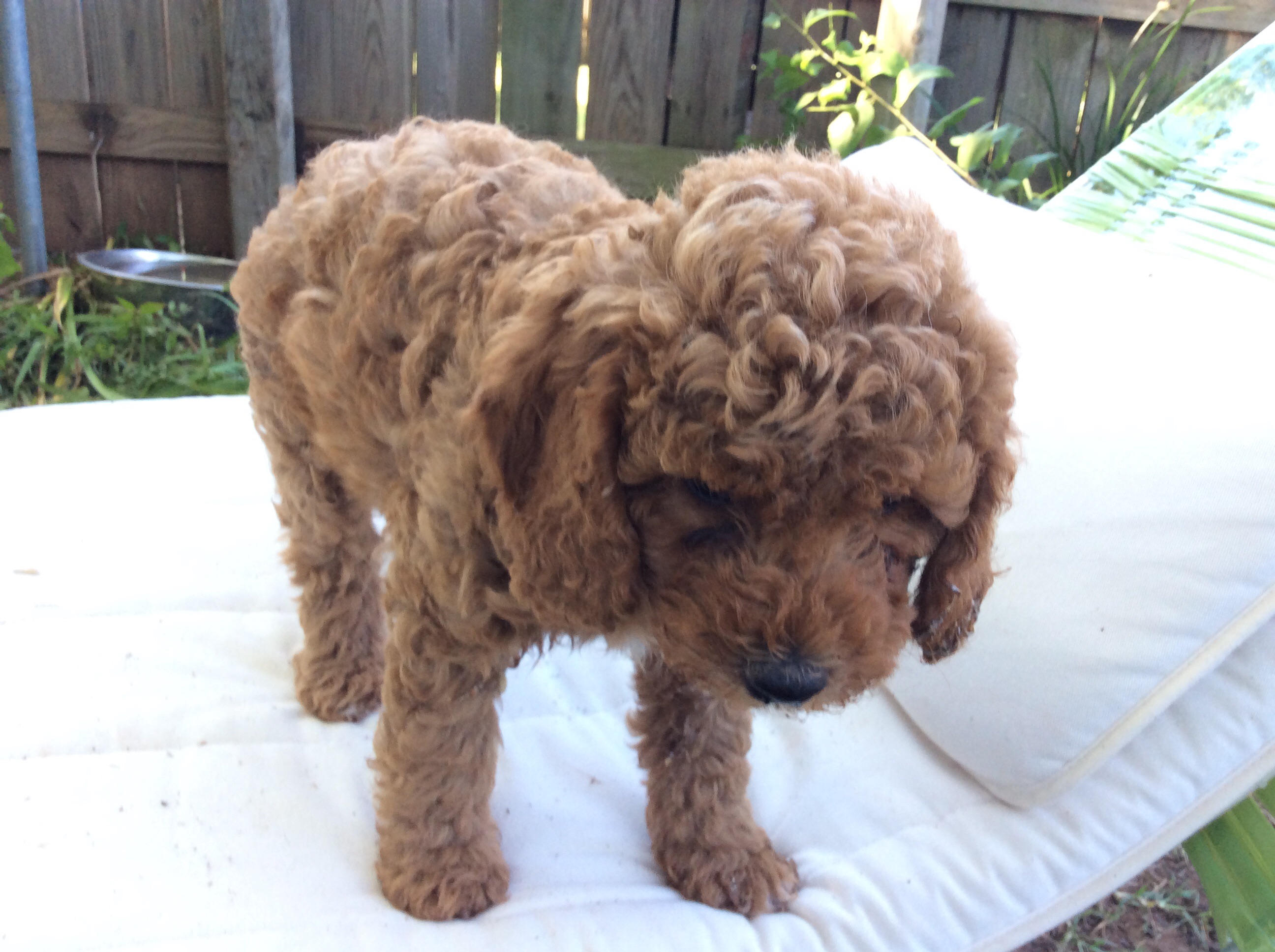 Below is Bunny Annie Laurie's pedigree. Her mom is our Liebschen named as the offspring in the pedigree. She comes from the gold Rush Champion line.
http://www.akc.org/cgi-bin/store/view.pl?akcsess=BC30FC079EFF7C31532480909B64C8340043017ADC820DA5FC4D877C0386C0BC9FB8&txn_id=3929458
Research Pedigree - 5 Generation
Liebschen
Reg Name:
Liebschen
Reg #:
SN796361/03
Breed/Variety:
Golden Retriever
Birth Date:
01/01/2001
Sex:
Female
Colors/Markings:
Light Golden
Breeder(s):
Tammie Hardee
© 2008 American Kennel Club
© 2008 All rights reserved. No material may be reproduced in any manner whatsoever without written permission from The American Kennel Club, Inc. The AKC has made every effort to insure the accuracy of its information. The information provided is "as is" with all faults and without warranty of any kind, expressed or implied. In no event shall American Kennel Club be liable for any incidental or consequential damages