AVAILABLE PUPPIES
PETITE MINIATURE GOLDENDOODLE PUPPIES
Thank you for your interest in my doodles!
My current litter are petite Miniature Goldendoodles. They were born June 12. They would be available around the first weekend of August I think.
I have 2 boys available. They are black with a few white markings.

Puppies will probably be in the 12-18 pounds range when grown.
My current female will be retiring after this litter.
This litter of petite miniature doodles will be $2000.
All my dogs have had Genetic health testing with Paw Prints or Wisdom Panel Lab and have clear joint examinations.
I have a 2 year health guarantee.
As far as I know, I was the first in the country to raise Miniature Goldendoodles. I was living in NC and my kennel name was Carolinadoodles. I began in 2000. I've also contributed content in 3 published Goldendoodle books, and I am located now in Stillwater, OK.
I train my puppies to potty in one designated area starting at 3 1/2 weeks old.
I also do some clicker training, and manding training.
My puppies are started on Integrity Raw food. Then kibble is added at a later time so they can easily transition if families use kibble.
IMeanwhile, if you have any questions, please feel free to check back again.
Take care,
Laura
..

https://www.facebook.com/Cimarronfrontierdoodles/
http://cimarronfrontierdoodles.com/
http://carolinadoodles.wixsite.com/cimarronfrontier
http://cimarronfrontierdoods.com/index_1.html
http://cimarronfrontier.weebly.com/
https://www.facebook.com/blessourpets/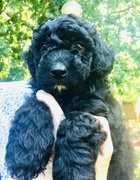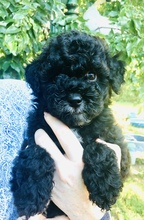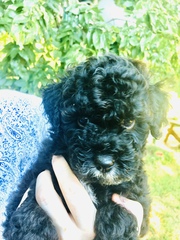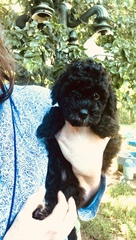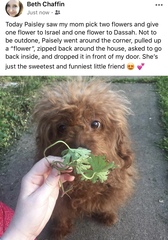 THIS IS MOMMA PAISLEY. QUITE A SPECIAL AND INTELLIGENT DOG.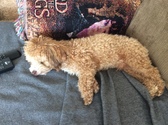 This is the daddy. Little toot. A sweet friendly, outgoing boy.