LINKS
Do you know The Creator of the Universe? Let me introduce you to Him!.
Kate breeds miniature labradoodles in Australia. she has been a labradoodle breeder for many years and has offered wise advise.
This is a web site made by Blue Sterling. It has great information about goldendoodles and labradoodles too! The best goldendoodle site you will find!
Daniel is a very talented Graphic Designer. Check out his web site for any design needs!
The most popular breed of designer dog is the Labradoodle, originally a cross between a Labrador retriever and a poodle. The mix reputedly combines the intelligence, aloof nature, the delicate frame, and the low-allergy, and non-shedding traits of the poodle with the boisterous exuberance, lovability, and loyalty of a lab.
Check out this fun Bible Trivia link!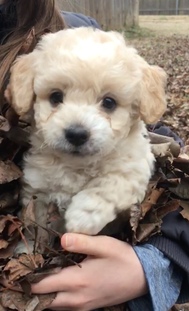 We are a breeder listed with Puplookup.com
This is a music site made by one of my sons, Brice, and my nephew, Chris, plus the added talents of my other sons along the way. It is unique, original music in a unique, original sort of way. Check it out!!