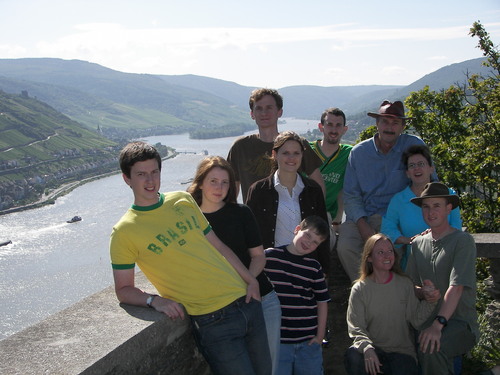 We are the Chaffin family. John and Laura with our children.
lAURA.
JESSE, A STUDENT AT OKLAHOMA STATE UNIVERSITY.( UPDATE: JESSE HAS GRADUATED FROM COLLEGE THIS MAY.)
LIAM, OUR 9 YEAR OLD.
DANIEL. DANIEL HAS GRADUATED FROM OSU IN 2006, IS MARRIED AND IS A GRAPHIC ARTIST WITH OUR LOCAL NEWSPAPER.
CHRISTY, DANIEL'S BRIDE; DANIEL AND CHRISTY HAVE A DAUGHTER, FELICITYGRACE, WHO IS IN HEAVEN WAITING FOR HER MOMMY AND DADDY. WE LOVE YOU, fELICITY!
BETH [high school STUDENT] .(Okay, another uPDATE: BETH HAS GRADUATED FROM HIGH SCHOOL AND WILL BE ATTENDING OSU)
BRICE[chaplain assistant in the Army (UPDATE! BRICE HAS BEEN DEPLOYED TO IRAQ AND IS GUARDING OUR FREEDOM)], AND
JOHN, THE DADDY OF THIS CREW!
(Also in the pic are Christof, our nephew, and our friend, Leslie.)
We live in Southport, NC.(UPDATE: WE HAVE MOVED AND NOW LIVE IN STILLWATER, OK. laura's hobby has kind of turned into more of a business, which is a lot harder to keep up with than a hobby. Doodles are becoming famous for their role as wonderful family dogs. Please be patient with us as we try to keep up with each email. We get far too many emails to manage easily. We put preference on those who can personally see and pick up their puppy. Call if you have any questions!!(updated phone #) 405-533-5407
CAROLINADOODLES
Laura Chaffin
Here is a picture of Beth with a puppy, being surrounded by Charm, Jacquie, and Sadie. Everyone loves puppies!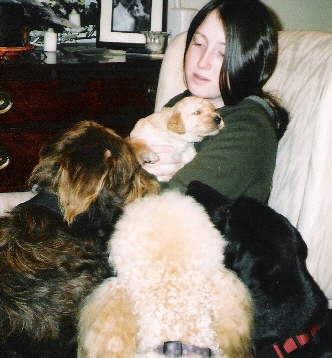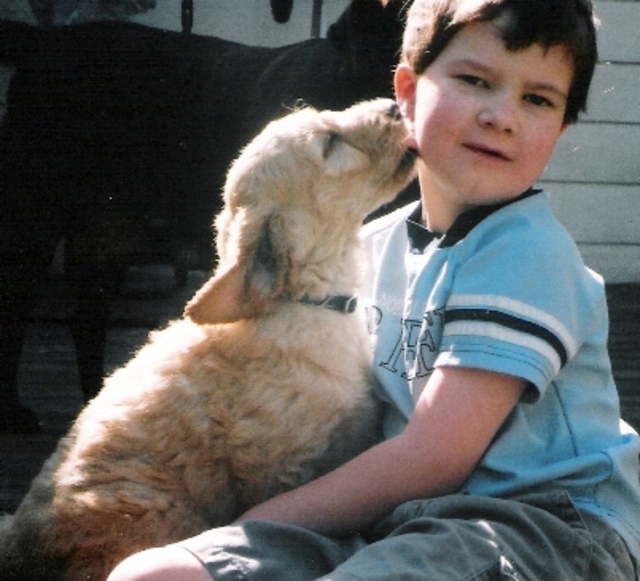 **NOTE FROM LAURA**
I was wondering if you ever thought about spiritual things? Do you feel you have a moral responsibility toward God?
I would like to tell you my story. It actually started when I was in high school in Pennsylvania.
"When you go to college, you can be anyone you want to be because no one knows you." These words were spoken to me by my sister when I was a senior in high school. The words were like a life raft to me; thrown as an offering of hope and escape. You see, I wanted so desperately to be a different person; I hated myself. I was extremely shy. I didn't like my shyness. I hated cowering before people; stammering and trembling when I talked. I couldn't look into anyone's eyes. I hated being ugly. I couldn't bear to look in the mirror. I entertained thoughts of suicide but was afraid I would go to hell. I was frightened of the Devil! When I realized I couldn't kill myself, I began to feel a certainty that I would not live beyond age twenty-one. I decided I would die by then from despair and a broken heart.
However, those words spoken by my sister gave me great hope! I determined that I would, in a sense, 'birth' another person upon arrival at college! In college I hung out with people I wanted to copy. I put on a facade and became a good actor. Only, I found out that I still felt despair because the real me was still the same. I could, perhaps, fool others; but I could not fool myself. About that time I came to know a few people who were ...different. They had something about themselves that actually drew me to them. I found out what that something was: Jesus The Christ.
They told me that they knew Him; actually had a relationship with Him. One friend explained to me his relationship with Jesus. Now, I want you to know, I thought that I was a Christian also. I went to church occasionally, though more so as a child. Anyway, this friend showed me that God loved me. The Bible says such beautiful words! I has no idea!
"This is Love! It is not that we loved God, but that He loved us." (I John 4:10a) He also shared that I could be forgiven. I knew what sin was. I knew I wasn't keeping the Ten Commandments. I knew I put myself before other people and God. But my friend shared a verse, " For God sent His Son to pay for our sins with His own blood."( I John 4:10b) I found out that when Jesus died on the cross, He took the sins of the world upon Himself. But He didn't stay dead of course. He rose again, alive! It was that day on campus that I told Jesus I believed that He died for me, and I was sorry for my sins. I invited Him to come and take control of my life. I prayed a simple prayer, but it changed my life. Jesus washed away my old person and made me brand new. He has not left me. He taught me how to love others, and how to live each day as He wants me to live. I have come out of that dark haze I was in and I am a new person. I find great comfort in a verse in Romans that says nothing can seperate us from the love of God. The lovely people who introduced me to my Savior invited me to church, and it was from meeting often with other Christians, and reading the Bible, and praying to Him, that I grew and am continuing to grow into the person I had always wanted to be; although I sure have a long way to go!
So that is my story. :-) I also invite you to think about how much God loves you and how much you need Him, whether you realize it or not.
What if it's true?
Thanks for listening!
What If
What if you're right
And He was just another nice guy

What if you're right
What if it's true
They say the cross will only make a fool of you

And what if it's true?
What if he takes his place in history
With all the prophets and the kings
Who taught us love and came in peace

But then the story ends
What then?

But what if you're wrong?
What if there's more?
What if there's hope you never dreamed of hoping for?

What if you jump?
And just close your eyes?
What if the arms that catch you,
catch you by surprise?

What if He's more than enough?
What if it's love

What if you dig
Way down deeper than your simple-minded friends
What if you dig
What if you find
A thousand more unanswered questions down inside
That's all you find

What if you pick apart the logic?
And begin to poke the holes
What if the crown of thorns is no more
than folklore that must be told and retold

You've been running as fast as you can
You've been looking for a place you can land
for so long
But what if you're wrong?
Nicole Nordeman

Here's a music video the Swangin' Brothers singing their song "Mr. Brownstein." Brice and Christof had lots of fun in college...