AN AMAZING DOODLE!
BEAU THE AMAZING GOLDENDOODLE
This doodle of distinction is Beau, a goldendoodle owned by Marty and Charlie of NC. Beau is the son of Carolinadoodle's Cindy, a golden retriever, and Carolinadoodle's Fezick, a miniature poodle. He has an amazing ability to understand the human language and perform some pretty impressive feats! Take a look at his photos and read what his owners have to say about this special goldendoodle!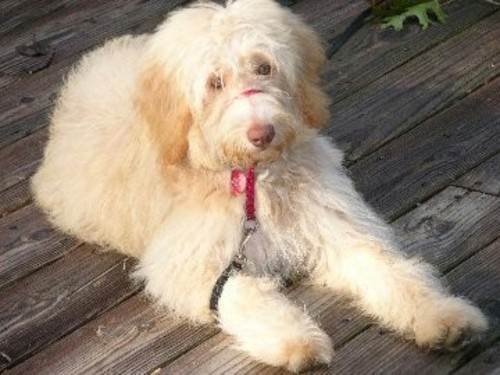 Hi Laura!

Beau is almost 2 1/2 now. Can't believe it. He has matured into a gorgeous, smart, wonderful dog who is finally getting just calm enough to let me really pet him! He is getting a little darker on his sides and rump as he ages. He loves everyone and is initially very excited when someone comes to the door. He is still too excitable to be loose around toddlers. He loves them but does knock them over trying to lick them in the face. Our proactive stance on that is to give Beau a tennis ball when young grandchildren come over. Then he is completely focused on trying to find someone to throw his ball! I truly believe that he would retrieve a ball 8 straight hours and love every minute of it. Alternate game is I give him the command to sit and stay in the den and I go hide his ball somewhere. I return to him and tell him to find it. He loves this!

Beau knows so many words that it is just hard to believe. I have always talked to him-- better than talking to myself, right? He knows: sit, down, stand, stay, spin, roll over, dead dog, leave it, take it, bring it, give it, kennel, upstairs, downstairs, basement, kitchen, find it, on the towel, food ball, spin, figure eight ( weave between my legs), fetch, watch me, heel, turn, stop and sit, paws up, backward (this is heeling while backing up-- supposed to be hard for a dog but not for Beau), jump-- either over a jump or through a hula hoop, wait, get my keys, get my cell phone, pick up your toys-- he'll pick them up and put them in the basket if I carry the basket around and I'm sure there are more that I'm not thinking of right now. Oh, clean up is his favorite command. That means I dropped food! Beau finds and brings his food ball for me to fill at mealtimes. It's one of those dog toys that he can roll around and food drops out. Takes him 15 min. to eat and that's 15 min. of entertainment for him!

Now here is the beauty of the practical application of all that knowledge. I have pretty severe osteoarthritis in my hips and on Oct. 6 had left hip replacement surgery. I was home by the fourth day with a walker and advanced to a cane a week later. I'm doing really well and look forward to having the other hip replaced next year. It took only 3 minutes to teach Beau to heel beside the walker. However, I can't pick up things from the floor for 3 months without a grabber which is always in the other room. When I drop something I call Beau to come and help me and then tell him to take it and give it to me. So far today, for example, he has picked up my ball point pen, my sweater and my cane. Yesterday UPS left a package on the front steps. I opened the door and said "Beau, bring it in" and he really went out and dragged it in!

Although it sounds odd Beau loves doing this work. He has always loved practicing his obedience and his tricks. I've always tried to make it fun for him but the truth is that he adores anything that engages him with a person. Every night at bedtime we do 5 tricks and then I tell him "time to go to bed". He goes right under our bed and never gets up before we do. Doesn't he sound like the greatest dog ever?? We sure think he is! THANK YOU FOR SUCH A WONDERFUL DOG!!!!

Another great trick that Beau does is begging. I'll have to take a picture of him doing that so you can see it.
I have a command " Walk like a person". Beau will stand on his hind legs and walk all the way across the room beside me. The command "Dance like a ballerina" will produce a pirouette on hind legs.

"Go through" sends Beau through an agility tunnel or big box and he would do a great crawl when I could bend over. We'll get that one back in the future. "Up and over" sends him over the big agility structure that looks like an inverted V about 5 feet high. "Under and down" puts Beau lying down under my legs. This was a command to get most dogs out of the way while another was working in class.
I think of you often. Hope all of your family is well ... Love from Marty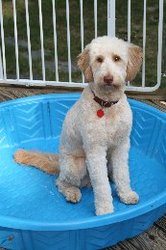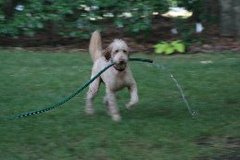 Guess I'll have to do this myself...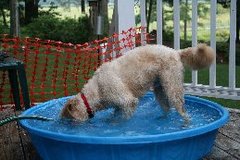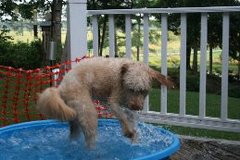 Just right! This is fun and I did it all by myself!!