references
Honestly, I can't say enough good things. Not only is my Oakley just the love of my life (and my kids'), but Laura's integrity is simply beyond question.
We inquired about the last puppy in her labradoodle litter last September. We'd had an awful experience with another breeder, who as an aside still has not refunded my money for a puppy I never got. BUT, I AM GLAD, and AND DON'T CARE ANYMORE!!, because otherwise we never would have had the good fortune of having Laura's little Jeffy, who is now our larger Oakley!
Laura stayed in touch with us daily prior to the actual shipping date, and did a wonderful job describing his personality in every way. She must be commended in calling me one afternoon simply to inform me of one incident whereby he ran the other way when someone came to the door. She wanted me to know everything about this puppy (she also informed me that he was her daughter's favorite of the litter), and gave me the opportunity to back out simply because she wanted to make sure everything would be perfect after what I'd been through with this other breeder in Alabama. As it turns out, he's an amazing dog--I've had quite a few in my lifetime-- and without any question, Oakley is my lifetime favorite. He is just all about love (pictures attached -- one that I took this morning when I walked into my son's room to wake him up for school. Does it get any cuter than that????), and he's comfortable, although guarded (which I like because he never has to be told "down!") around strangers, but is also a fantastic watch dog! He's perfect in every way--and SMART, too. Knowing what Laura had told me, I did everything possible to socialize the little fella from the first day we had him. Oakley is the favorite of everyone who knows him, and he's acclimated with NO problems, and traveled well across the country, on our move from Connecticut to Oregon.
Now, if Laura can be trusted to jeoparidize a possible sale with such honesty (and I am so glad I trusted my instincts), I can think you'd be able to trust anything she says about your prospective family member. I know that her pups get a lot of love because Laura shows continued interest in hearing about Oakley. I think that's great, and I am sure you will too.
C.A.
We are so pleased with our labradoodle from Carolinadoodles. From the first moment we saw him, we could tell he was well cared for and loved. Our vet also confirmed that he was a healthy, happy puppy. If we were to purchase another one, we would certainly choose one from Carolinadoodles.
M.S.
Raleigh, NC
Hi there!
Just wanted to send you some comments about the wonderful labradoodle who's the newest member of our family.
We purchased him from Carolinadoodles in southport, NC in mid-September , and have been thrilled with our new addition. We've named him Roscoe Monroe ( the middle name was the name the breeders gave him) and he's ADORABLE! Laura and her family made us feel right at home from the moment we first contacted her about her latest litter. She eagerly e-m,ailed me photos of the adorable puppies, so my children would have a chance to "pre-select" on-line.
Little did we know, 8-week-old Roscoe would select us! He primped and preened and snuggled and cuddled and absolutely refused to allow us to consider any other of his litter-mates! We left with him cradled in our four-year-old daughter's arms, and he's been inseparable from all three children ever since!
Dealing with Carolinadoodles was a terrific experience, and we're happy to recommend the great folks there to other families.
Best regards,
The H. family
Apex. NC
My name is J and I have a 10 week old Labradoodle " Bella - who I am VERY lucky to have!! She is just precious. Laura and her family were fantastic. They were able to provide us with all the information we needed including vet history, what Bella's personality was like and helped us to perform a few tests to see how she reacted to different situations. Now that she is home with us, she is just great. Almost completely house trained. Her personality is fantastic. She has even done well on a leash, we went for a little walk and she was like an old pro!!! She is getting along with all the neighborhood dogs and their owners!!! Bottom line, She is just to(o) precious for words and we are blessed to have her.
J.J.
S.C.
I received my dog from Laura Chaffin at Carolina Doodles. I felt that dealing with her was a wonderful experience and I have recommended her to others interested in goldendoodles and labradoodles. I visited often before bringing my pup home. Laura encouraged us to visit and spent as much time as I needed asking all types of puppy questions. She was informant and knowlegeable about the breed and dogs in general. Her pups are raised in a home environment with a lot of loving interaction by family and friends. Raising pups is a big part of Laura's life and she seems to enjoy it immensley. The parents were on the premises and I spent time with them,observing their temperament and physical stature. Yes, I am partial, but my dog is a beautiful example of the goldendoodle breed-she is no shed with a curly /wavy coat and a wonderful and intelligent temperment. She is very healthy and free of any genetic problems. I feel that Laura is an excellent breeder of goldendoodles and is very commited to bringing high quality dogs to the public.
MH
Laura Chaffin was my breeder and I have nothing but wonderful things to say about her and the whole process of acquiring our mini goldendoodle.
She provided great information, asked a lot of questions of us which I found to be very encouraging and ultimately provided us with a wonderful addition to our family. Our puppy is healthy and and very receptive to our training. I would highly recommend this breeder to anyone trying to find the perfect goldendoodle. I found out only after the purchase that the father had champion blood lines. She provided us with great information and also sent us a book on puppy training. She provided a blanket and a toy with smells from the mother and the litter that were very comforting. He is happy and healthy and we could not be more pleased.
S.K.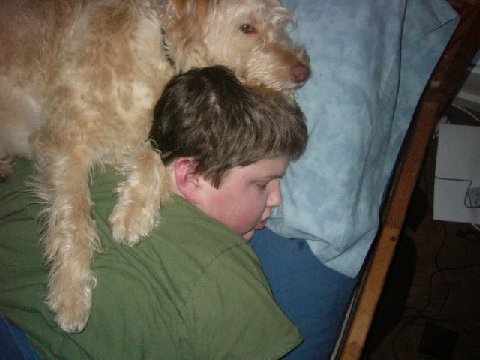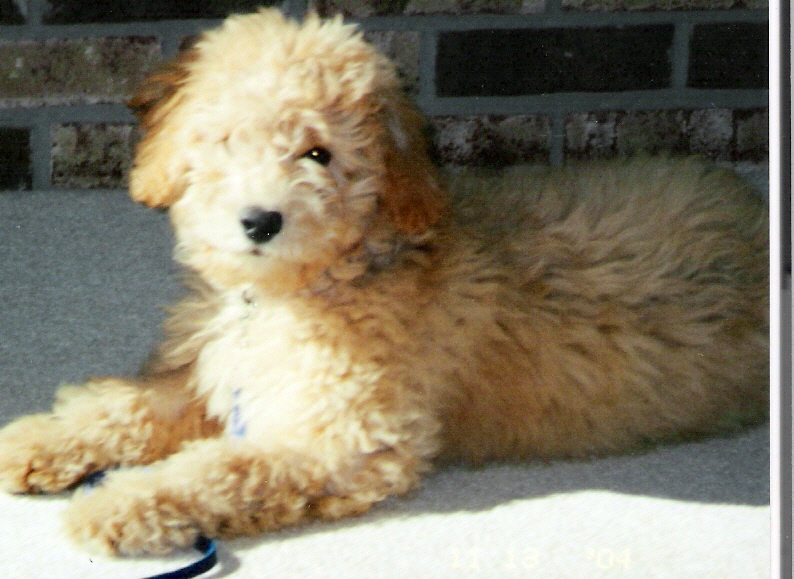 My family purchased a miniature golden doodle puppy and found this breeder to be personable, very professional, and highly ethical in the breeding and care of their dogs and puppies. They breed first generation doodles - golden doodles and labradoodles to puoduce pure hybrid breeds. They have a guarantee of the health of the puppies; provides extensive records of the parent's bloodlines and the puppy's health records; and even keep in contact with you after the adoption of the puppy to answer questions and provide support.
The puppies are well socialized with orther dogs and people (including children) and are raised in their home. The puppies were used to playing outdoors and were even taken for rides in a car. We were given a baby blanket witht he scent of the mother, a favorite toy, and a week's supply of the puppy's food to help the puppy transition to their new home. They prefer to meet the new owners before selling the puppies to ensure they will be in a loving home.
P.A.