Available Puppies!
Available puppies! Contact me via text or email regarding these babies. 405-762-9273. Cimarronfrontier@gmail.com. I am located in Stillwater, OK
Miniature Goldendoodle Puppies Available
*********************
I have a litter of 5bb petite Miniature Goldendoodle puppies.
The black color varieties are $1200. The lighter colors re $1500. Deposit of $250.
These puppies are Descendants of my Foundation stock from 2001.
Liebschen (OFA) and Jacques (OFA) had Bunny.
Bunny(OFA hips, eyes, heart) and Harley (OFAhips) had Wiggle.
Wiggle (CERF) and Opus (OFA, GENETIC TESTING) had Pinkie .
Pinkie (CERF, hips certified) and Ambrosias (OFA) had Gracie.
Gracie and Wally(OFA, GENETIC TESTING) had Muffy.
Muffy(GENETIC TESTING) and Teddy (GENETIC TESTING) produced this litter born January 1, 2020
OFA, CERF, and Genetic Health testing done .
I am expecting them to be very low shedding.
They were born New Years Day 2020.
There are 4 girls and 2boys.
These puppies should grow from 10 pounds to 15 or 18 pounds.
They will be available starting the last weekend of February.
Axl is no longer available: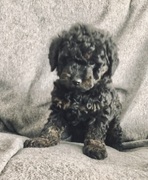 Bric is no longer available.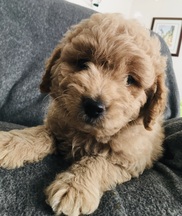 Brief Description
Billy Boy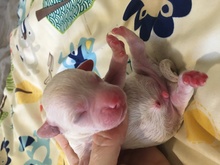 Billy Boy is a cream and white color.
Roy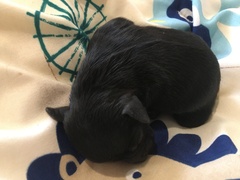 Born at only 4.5 oz, Roy is solid black.
Laurie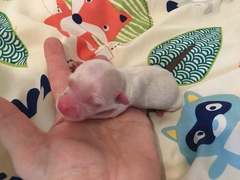 Laurie, like her sister, Anita, are the tiniest of the litter. Born at only 3.5 oz. They might grow to only 8 pounds.
Poppy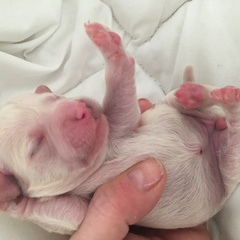 Marianne is a cream color puppy, with some dark points.
Michelle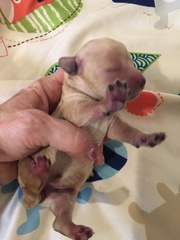 Michelle is a gold puppy with brown points. She might be sable colored.
Carol Leigh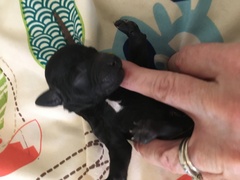 Carol Leigh is black with a white mark under her neck.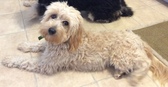 Muffy, momma of the babies born 1-1-20
Teddy is the daddy of these puppies.