DOG FOOD - LIFE'S ABUNDANCE
Dog Food

I recommend Life's Abundance. They don't sell it in stores because they want to have control over how fresh it is. So you have to buy it online, just like the Barf Raw.
Actually it is kind of impressive how they make the food, they cook it so that the good enzymes aren't cooked out of it, so you get more value for your dollar. Anyway, if you don't think you could stick with the raw or if you would like to go half and half or just want to use kibble, try to use Life's Abundance.
Donna Stanley, owner of Endless Mountain Labradors says this about commercial dog food:
What's really for dinner? The truth about commercial pet food
Due to the recent pet food scares, I feel obligated to use this page to educate our clients, and the public about pet food.
Having worked full-time in the nutritional field for 5 years, I started transferring what I knew about human nutrition to canine nutrition. Our bodies are very much the same as our canine counterparts (you'll notice that the drugs they are treated with are very much the same as we take too!) I had a lot of dog food companies and dog food supplement companies contact me to write their training programs for breeders, and so my journey began…
Having used a lot of dog foods over the last 25 years of breeding…I've seen it all. I've loved some, I've hated some. I also have to make it clear that my information contained here will also be specifically geared towards nutrition as it has to do with Labradors. I have found that labradors, in general, sometimes seem more sensitive to food allergies than other breeds, or maybe I'm just assuming that based on all the calls and emails I get from all over the country from people (people that don't even have my dogs!) that have labs with skin and coat allergies. As soon as I make my food recommendations to them they call or email me later RAVING about the changes in their dogs…you would not believe how many people call me with labs that have "hot spots", and when I proceed to ask them what they are feeding their dogs they tell me something like "Dads"…about the equivalent of feeding twinkies to your dogs, basically! It's cheap, and you get what you pay for…junk. And you know how YOUR body reacts if you feed it twinkies everyday…and the medical field has proven how much our health is tied to nutrition…how many diseases and disorders are merely nutritional deficiencies in our bodies! Plain and simple.
Cancer: Frankly, I'm appalled at how proliferate this is in Labradors. I don't know if I have just had good luck or what…but it has never been a genetic issue in our labs. BUT, I do know that we have pumped our dogs full of antioxidants and gluten free food. Oncologists actually put dogs on wheat/gluten free food to prevent cancer, or if they are already predisposed to cancer. It is also low carb, so you will not struggle with weight problems either. Basically corn and wheat were originally used in pet foods and as a cheaper source of filler than the wheat protein was. Many people prefer to not feed carbs because for one thing, cancer cells FEED OFF OF CARBS. In humans, the nations with higher carb consumption have a higher cancer rate. Its FACT. Lower the carbs, and lower your risk for cancer, diabetes, etc. All things our dogs get as well. They digest proteins and herbs/plants much better—that is what they were designed to digest. Wild dogs are carnivorous, BUT they also graze on greens (herbs, etc)…
ADULT FOOD, PUPPY FOOD, NO GRAIN FOOD, ALL LIFE STAGES FOOD
Small & Medium Breed Puppy Food is formulated with select ingredients to help your puppy grow and thrive. With Life's Abundance, you can be confident that you're feeding advanced nutrition to help your puppy achieve and maintain optimal health.

Made for small and medium breeds, this premium kibble is made with the finest ingredients, including...

• A proprietary blend of vitamins & minerals
• High-quality, multi-source proteins for growing muscles & healthy development
• An antioxidant system with vitamins C & E
• Prebiotic fiber & guaranteed probiotics
• Omega-3 fatty acids for healthy skin & a shiny coat
• Enriched with DHA for canine smarts
• Dietary fiber to help maintain a healthy digestive tract
• A selection of nutritious vegetables

Specially formulated using only wholesome ingredients, this food contains …

• No artificial flavors
• No artificial colors
• No corn or corn glutens
• No wheat or wheat gluten

Give your puppy every opportunity for a long, healthy and happy life. Feed Life's Abundance and watch your young companion animal thrive!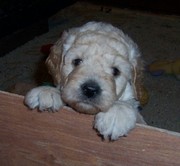 At Life's Abundance, we make healthy living easier with products that are inspired by nature and informed by science. With a focus on safety, it is our commitment to use as many natural ingredients as possible, to ensure our product's quality and efficacy, and to back it up with first-class customer service.

As an employee-owned company, we are dedicated to prosperity and generosity with a structure that supports a non-profit foundation and that offers people the opportunity to achieve their goals by sharing our products with others. Everything we do at Life's Abundance honors our namesake … providing better ways to live more abundant lives.
carolinadoodles@gmail.com
http://www.lifesabundance.com/Home.aspx?Ath=True&hdr=&cat=4&realname=20243629